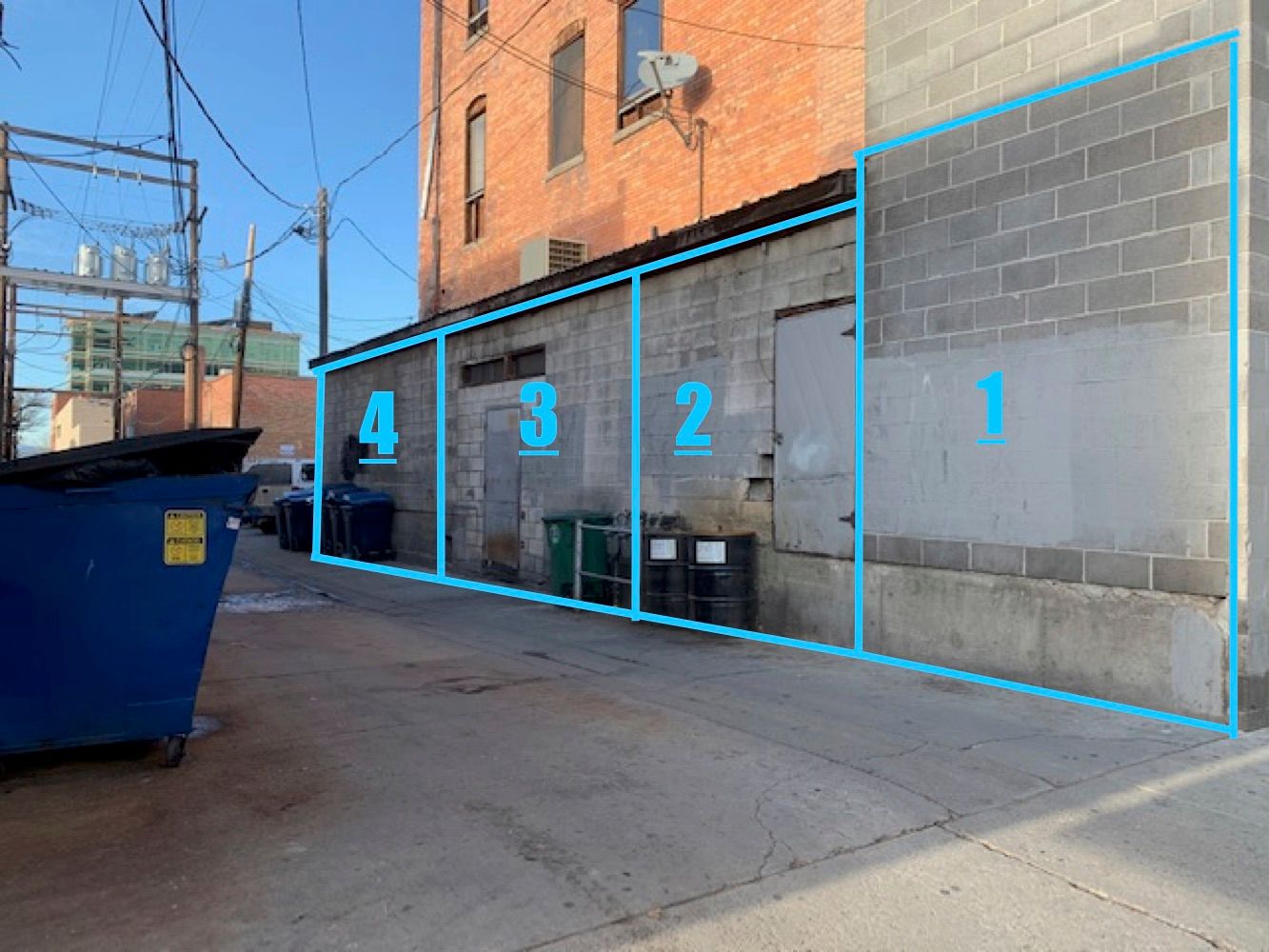 The ZACC seeks four artists to paint individual murals in the alley behind our building. Each mural will be roughly 13 feet wide by 8 1/2 feet high and will be painted side by side on the back of the Import Market building at 201 W Broadway (as shown here). Selected artists will hold community conversations with traditionally underserved and disenfranchised Missoula residents and include them in shaping the design. All chosen artists will create mural themes inspired by these community conversations on the subject of feeling welcome.
The project aims to amplify the perspectives of various members of our community including BIPOC, LGBTQIA, refugees, people living with disabilities, and people experiencing homelessness. Each artist will create one mural and engage in conversations with members of one or more of the aforementioned groups to create their design. Selected artists must have a proven history of successful mural creation, be willing to take part in community conversations, and be excited to hear others' ideas and incorporate them into their murals. Artists must also be willing to work around various imperfections, doorways, and windows on the mural site. Preference will be given to artists that are a member of, identify with, or have a relevant history with one or more of the listed underserved groups. Empower Montana will help facilitate the community conversations. Each artist will be paid $3,000 for the design and creation of their mural. The ZACC will pay for the cost of supplies. We will be taking applications June 1-21, 2020. Selections will be made by July 1st. Community conversations will be held in July, and murals must be completed during the month of August.
WHAT WE NEED:
Missoula's kindergarten students to create original monster art!
HOW TO PARTICIPATE:
Using information and instruction provided virtually by MCPS Fine Arts Program, draw a monster and submit it to the ZACC!
PARTICIPATION DETAILS - UPDATED COVID19 VERSION:
Parents of students registered in kindergarten at any one of the Missoula County Public Schools will receive an email notification from the fine art teacher on May 1st. This email will contain information on how to access a virtual "monster lesson", with which your student can follow along as they create their own monster. When finished, your student's monster will need to then be delivered to the ZACC done via snail mail or digital submission. May 31st is the deadline for delivery. Once all the monsters are collected, we'll put out a call for adult artists to then "recreate" your student's original masterpiece.
MONSTER REQUIREMENTS:
Monsters must be drawn on a WHITE 8.5"w x 11"h piece of paper.
Monsters must be drawn for PORTRAIT style display. (Tall not wide.)
All students must complete & submit the following 4 statements about their monsters:
1. My monster likes:
2. My monster eats:
3. My monster feels:
4. My monster thinks:
GENERAL REQUIREMENTS:
Submitted art must be created by a student currently enrolled in kindergarten at a Missoula County Public School.
Art must be submitted to and received by the ZACC by May 31st in order to be included in the project.
MONSTER INSTRUCTIONS: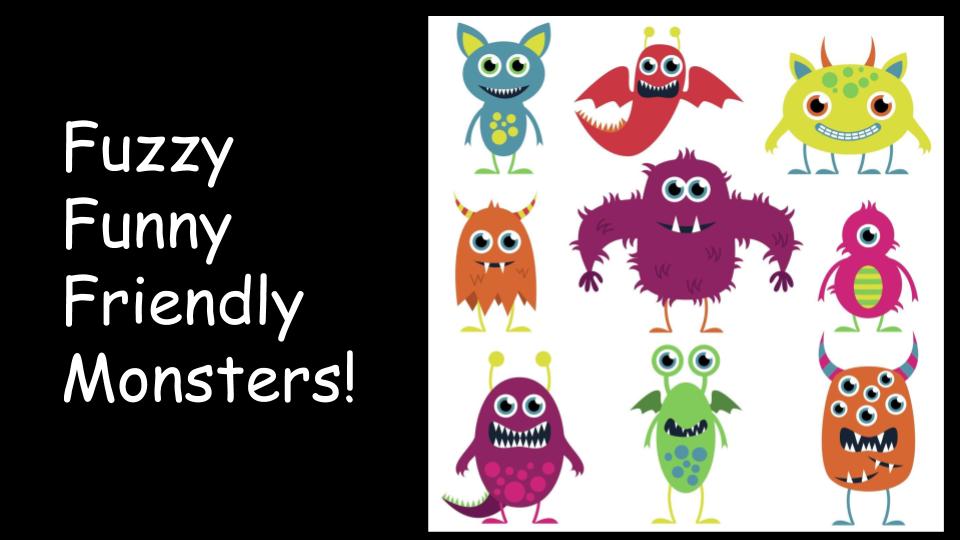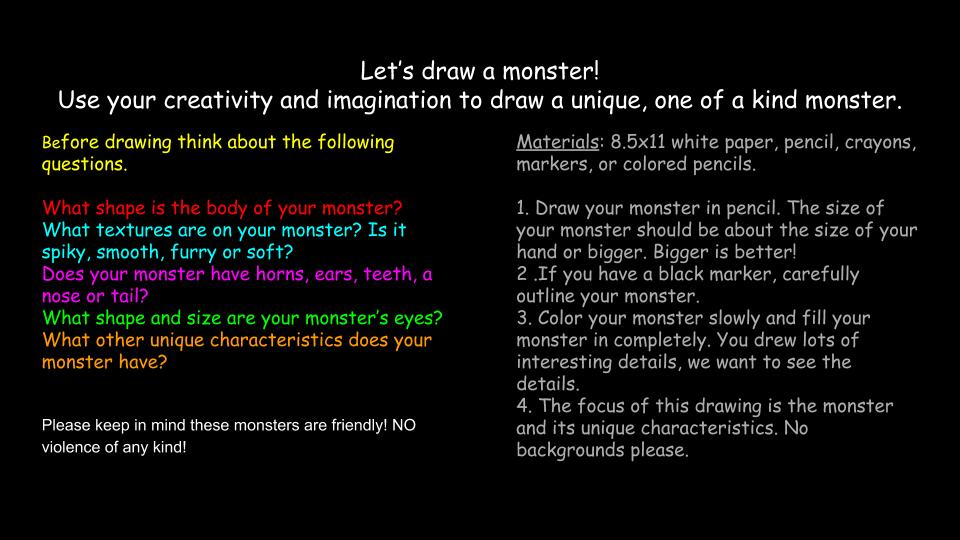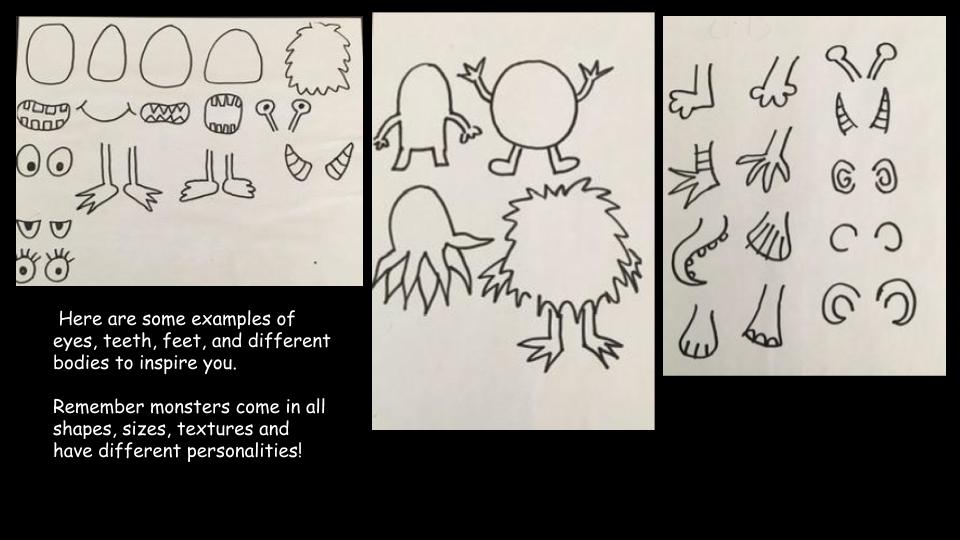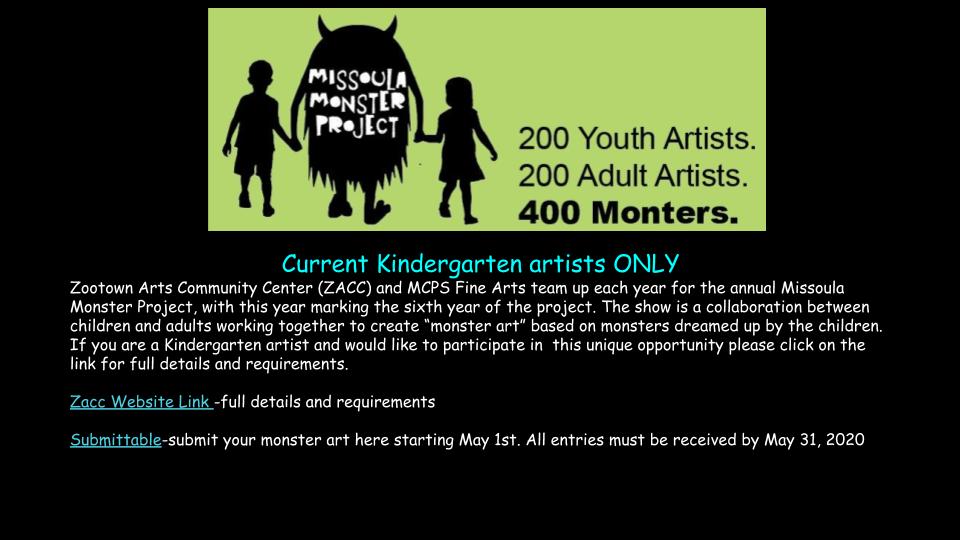 Show Origins:
The concept for 'Art from Art' stemmed from an interaction between ZACC Operations Director Heather Stockton, and long-time ZACC studio holder and art therapist, Dr. Kim Brown Campbell. Kim had just returned from Heather's latest art show, and the two discussed Heather's work while Kim shared some photos she had taken of the show. The photos were beautiful. Kim's photos showed an intimate viewership of the paintings and captured the development of her relationship and understanding of Heather's works. Zooming-in on tiny areas of rather large paintings, Kim's images had become new pieces of art in and of themselves, and a concept was born.
--
A Challenge in Self-Reflection:
Due to limitations caused by COVID, we ask that for the first ever 'Art from Art' challenge you take a second look at a piece of art that you have personally created, and which you can easily physically access. Take a closer look at that art. Touch it. Spend time with it. Turn it upside down and see how it changes. When you're ready, take a photograph that captures your existing art from your new perspective; creating art from art.
--
Requirements for Submitting Art:
The original source art MUST be a piece that you have created.
This is a photography project; final works must be a printed photograph, with no additional embellishments.
To promote accessibility, photos must be taken with a cellular device set to the "Square" format.
Your final photograph can show no more than 25% of your original piece of art.
Final prints must be 12"h x 12"w with full bleed, and ready to hang.
*Pieces can be printed on photo paper (must be framed with hanging wire), metal (must have hanging wire), or stretched canvas (must have hanging wire).
If submitting a framed photo print, the frame should be no larger than 2"w for a max total dimension of 14"h x 14"w.
Final pieces MUST be ready to hang on a hook.
Final pieces must be dropped off to the ZACC by July 15th.
When you sign up to participate in the show, you'll be asked to include an image of your original source art, which will appear alongside your artist statement & biography during the exhibition.
--
Participation Agreement:
Through participation in 'Art from Art' you are choosing to celebrate the fact that each and every individual has their own unique perspective and interpretation of the world, and there is space for all.
The ZACC Four Giant Windows Gallery is welcoming all Missoulians who want to share artwork with our community that inspires hope through these interesting times. All works will be printed on 8.5 x 11 inch paper and then displayed staring next Monday, March 23. Images will also be shared on all social media sites. Keep your submissions coming. We hope to completely fill our windows and give you lost of options to fill yours!
Medium: Any
Please note this is a community project, and images that are deemed inappropriate or possibly offensive will not be featured. We appreciate and thank you for understanding!
Join us this summer for an interactive exhibit of art celebrating all things architectural in Missoula and Surrounding areas. Artists are invited to intemperate the theme Architectural Impressions as narrowly or broadly as they wish. The month long exhibition will feature 2 and 3d work, multi-media, and a series of lectures and events.
Everyone who submits is automatically accepted with this invite. Pictures of your work are not required but appreciated. Pictures will be used for promotional materials. All work will sell at the ZACC Gallery rate of 60% to the artist and 40% to the ZACC gallery.
Thank You!
Important Dates to add to your calendar:
Deadline to sign up: June 7th
Art Drop-off date June 28th
Opening Reception: Second Friday July 10th 5 - 8 pm
Artwork Pickup: Aug 3rd - 9th
Sign up on Submittable Wed Feb 27th - June 7th
Artists // Join the Zootown Arts Community Center's 2nd Annual Open Studios Missoula!
Location 1 // The New ZACC // 216 W Main St // Blackfoot Communications Gallery
The ZACC will display one piece of artwork from every participating artist during our First Friday Open Studio Preview Reception. Artists names and studio addresses will be added to a map that guests will see via social media and a poster that will be distributed before the event.
The Blackfoot Communications Gallery Info // The hanging system in the Blackfoot Communications Gallery requires that all work be framed and have a wire secured to the back that extends across the length of the piece. (No Tape!) Pieces should not be large than 18" x 24" and should not weigh more than 35lbs.
Opening Studio Preview Reception // 1st Friday // September 4 // 5-8 PM.

Location 2 // Your Studio!
Open Studios // Saturday, September 5 // 11 AM – 4 PM
Missoula Open Studios provides an intimate view into the artist's life and studio. Guests will be able to see where and how ideas are conceived and developed. When visiting an artist's studio, the creative process becomes apparent and is unique to each artist. It provides a personal, individualized experience, unlike the setting of a typical gallery show. This is what makes our event so special.

Missoula has a burgeoning community of artists and craftspeople working in traditional and contemporary media. Here's your chance to meet artists in their work environments, get insights into how and what they create, and take home a painting, sculpture, a piece of handcrafted furniture, or a one-of-a-kind piece of jewelry.

Guests will be engaged, inspired, and on occasion, challenged by the art. They'll see finished art, works-in-process, and art installations in home studios, artists' buildings, historic structures, galleries, and storefronts. Some open studios provide demonstration, live music and/or refreshments. All open studios are free to the public.

FEE $35
Everyone who submits is automatically accepted. High quality jpeg images of your work are not required but appreciated. Images will be used for promotional materials.

Registration Deadline // August 1, 2020

Artwork for Open Studio Exhibition Due by Sunday August 23!

ARTIST MARKETING TOOLS // The ZACC provides advertising, publicity and social media outreach, but participating artists are all expected to be part of the publicity team!
Posters // The ZACC will produce a poster with all "Open Studio" artists names and address listed.
Evites & Newsletters // The ZACC will send out "Open Studio" info that you can forward to your email contacts.
Social Media // Follow us on Facebook, and Instagram

ONGOING PREPARATION // Keep your mailing list up to date. Keep an eye out for people who you want on your postcard and email list. Have your artwork professionally photographed, or plan to do it yourself. Make notes of things you like and don't like at exhibits and open studios you attend. Take note of display elements that might work for you, or the way things are arranged on a wall or in a room. Look at prices for comparable work. Do you feel comfortable about where your prices are set in relation to others? Keep notes of blogs you like, where you might like to be featured, and make a record of their contact and submission information. Keep an eye out for publications where you might want to advertise. Gather their information. Often print ad deadlines are months ahead of publication.

6 MONTHS BEFORE
Any PR opportunities? Write an article or press release that highlights your special story.
Create a budget for your event. Consider display material, lighting, postcards/postage, studio improvements, food and beverage, cups and service, hired help, and anything else that you can think of. It should be a number that you are comfortable with. Thinking it through early will keep you from being caught off guard by unplanned expenses.

3 MONTHS BEFORE
Consider any major changes you'd like to make to your studio. Open Studios is a great excuse to dream and manifest magic in your workspace.
Pool your resources! Are you showing with other artists? Now is the time to organize and divvy up tasks. Will you be marketing as a group? Will you create a Facebook Event together? A postcard together?
Do you need to order any finishing or framing materails?

2 MONTHS BEFORE
Do you know which pieces you're going to show?
Has all the artwork you plan on showing been photographed?
Update your website and/or online presence

6 WEEKS BEFORE
Design your own postcard and have it printed early!
Start announcing your OS plans on social media.
Attend events like, First Friday. Remind people Open Studios is coming up. Bring your cards!

1 MONTH BEFORE
What's left to get the artwork ready?
What's left to get the studio ready?
Are you prepared to make sales by check or credit card?
Contact your email list and invite them to Save the Date for your Open Studios weekend and First Friday Opening reception at The ZACC.
Create a Facebook event, a blog post, Tweet, etc.
Mail your postcards to your mailing list.

2 WEEKS BEFORE
Exchange postcards with other artists. Keep stacks in your studio for visitors. Facebook, Twitter, blog about it, etc.
Promote your friends' Open Studios on your social media, and encourage them to do the same. The more awareness there is, the better it is for everybody!

THE WEEK BEFORE
Clean your studio, store away personal items and valuables, & de-clutter.
Paint walls, hang art.
Shop for non-perishable food and beverages.
Invite your neighbors. If they're not home, leave a postcard at their door!
Don't have a sandwich board? Make one!
Print your bio, artist statement, pricelists, & labels.
Make sure you have petty cash for making change.
E-mail your list - a reminder: "It's this weekend!"
FRIDAY – Opening Reception

SATURDAY - OPEN STUDIO
Go out for coffee in the morning and bring your postcards to distribute.
Place your sandwich board or signage and balloons out front.
Arrange for a friend to relieve you during the day for a quick break. Don't forget to eat!
Downtime? Post social media post about the day so far; take pictures with your visitors. If you're too busy, awesome!
Enjoy your guests. Breathe. Be brilliant.

THE WEEK AFTER
Add new contacts to your mailing list and send them thank you letters.
Make notes of what worked and what didn't for your next Open Studios event.
Compile any data you may have gathered about how people heard about your Open Studio to use in planning your next marketing effort.
Go make more art!